"The children are our future" – that has to be one of the most inane and obvious statements of all time, but when it comes to the health of our planet, the critical importance of recycling is a vital lesson our children have to learn.
It's easy to stick our heads in the sand. We just put our bin bags outside and wait for the rubbish collectors to come along. But where does all that rubbish go? It doesn't just disappear. Up to 60 percent of the rubbish that ends up in our dustbins could be recycled and used to manufacture new products, but instead, it's sent to landfill and does a huge amount of damage to the environment.
With that said, it's essential we teach children the importance of recycling and there's no better way to do that than with a fun range of recycling projects for schools…
Five ideas to bring recycling to the classroom
1). Hold a recycling competition
Turn almost anything into a competition and most kids will love it. Seeing who can recycle the most in a week is an easy contest to execute. All you need are recycling bins for each group of children. You can then use printable signs for cans, bottles, paper and plastic to teach them the importance of splitting their recycling by material. Whoever has the most recycling by the end of the week wins a prize.
2). Upcycling materials
Teach children to view rubbish differently by challenging them to upcycle recyclable materials in the most creative way. Plastic containers can be used as plant pots in the school garden, plastic jars can make an excellent birdhouse while plastic bottles can form the basis of your very own jetpack!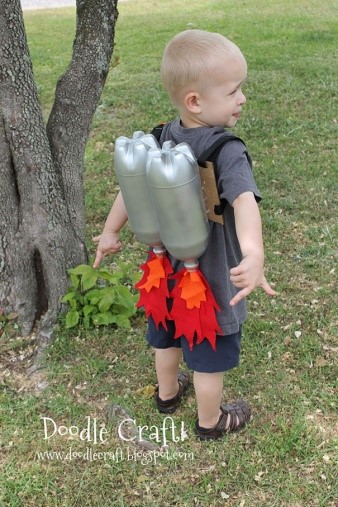 Source: doodlecraftblog.com
3). Organise a rubbish pick up
Holding a rubbish pick up or cleanup afternoon around the school playground or local neighbourhood will help the children understand that it is their responsibility to keep their area clear. With each bit of rubbish they find, they will learn what items can be recycled and which go straight in the bin. It will also encourage them to take pride in their surroundings and think twice about littering.
4). Hold a clothing recycling drive
It's important children understand that recycling is not just about cardboard, plastic, and glass. Encouraging children to bring in their old clothes is an excellent way to teach them about other objects that can be recycled. It will also help them understand that just because they no longer need an item, that doesn't mean it couldn't be of use to somebody else.
5). Start a compost heap
If you have a school garden then starting your own composting area from food waste is a great way to fertilise the plants and reduce the food waste at school. Start by creating a compost heap from raw food waste such as fruit peelings. Once you're confident composting raw food, you can then start on those lunch-time plate scrapings, although you will need the correct equipment to compost cooked food.
And there you have it, five recycling projects for schools that you can implement right now. To organise a school waste removal, please get in touch with the team at Junkwize today.